Back to Our Right Now House
---
There she is *with our watch dog 😉
I was highly invested in the in our 'almost house'. Not just monetarily—emotionally. But when it fell through, I took it as an opportunity to refocus my energies on current house. I do love this house and am still very excited at its potential. I am just reassessing what we do at this point. We know we want to buy a slightly bigger place in the next year, so rather than going gang busters on making this house perfect for us, I am focused on making the changes that will increase its rental value.
The changes I want to make to the exterior are minimal. We where blessed with that gorgeous cedar shingle roof. Our inspector insisted that we negotiate for a new one just based on its appearance. But that is what I loved the most. New cedar roofs are beautiful, but I love the age on ours, all dark and mossy. It is completely solid with no leaks at all… I appreciated our inspectors desire to save us money in the future, but tearing it off now would have been a total waste. Ol' girl has at least 10 more years in her.
The thing I'm not such a big fan of, the colors. Our hood is extremely strict when it comes to HOA conveniences. We only have a handful of approved exterior colors… all authentic to… you guessed it, colonial williamsburg. So, I'm not real sure how the yellow and green combo made it through the approval process.  Fortunately our trim is white, and that is the color I want to paint the house. Re-hang the shutters on hinges. (actually, I would love to get rid of the shutters, but that idea got the kibosh early on, both by my husband and the HOA.) At least I can paint them black, and the door will most likely be black too.
See wouldn't no shutters be nice? I have been jones'n for that look for sometime now, here and here.
I am actually thinking of painting the shutters white… that's a hard sell, but worth a shot. I just really like the simplicity of it:
I am putting up these copper lanterns on either side of the door: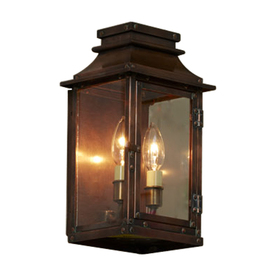 allen + roth New Vineyard Antique Copper Lantern
And I would love, love, love to do a picket fence in front…. That's a wish for an us house, not a rental property… but you never know. I may be able to snag a contractor in the middle of the winter that is willing to do it for cheap.
We have started work on the backyard… more to come.